Physical Exhibition
The physical exhibit is made up of 22 information panel displays with images based on the scholarly essays, selected and created by the curatorial team. The physical exhibit will tour beginning in summer 2021, and be presented in universities and community centers throughout the United States, including in Boston, New York, New Jersey, and Philadelphia. A Greek version will be created in collaboration with the Museum of the Macedonian Struggle, and the Laboratory of Narrative Research at the School of English of Aristotle University of Thessaloniki, and will be displayed in fall 2021 at the Museum in Thessaloniki and other locations in Greece. An abridged version of the exhibit is currently on display at St. Photios Greek Orthodox National Shrine in St. Augustine, Florida for the coming Bicentennial year.
Online Exhibition
The digital exhibit offers in-depth content including images and essays by sixteen contributing scholars from the US and Greece elucidating topics associated with each theme.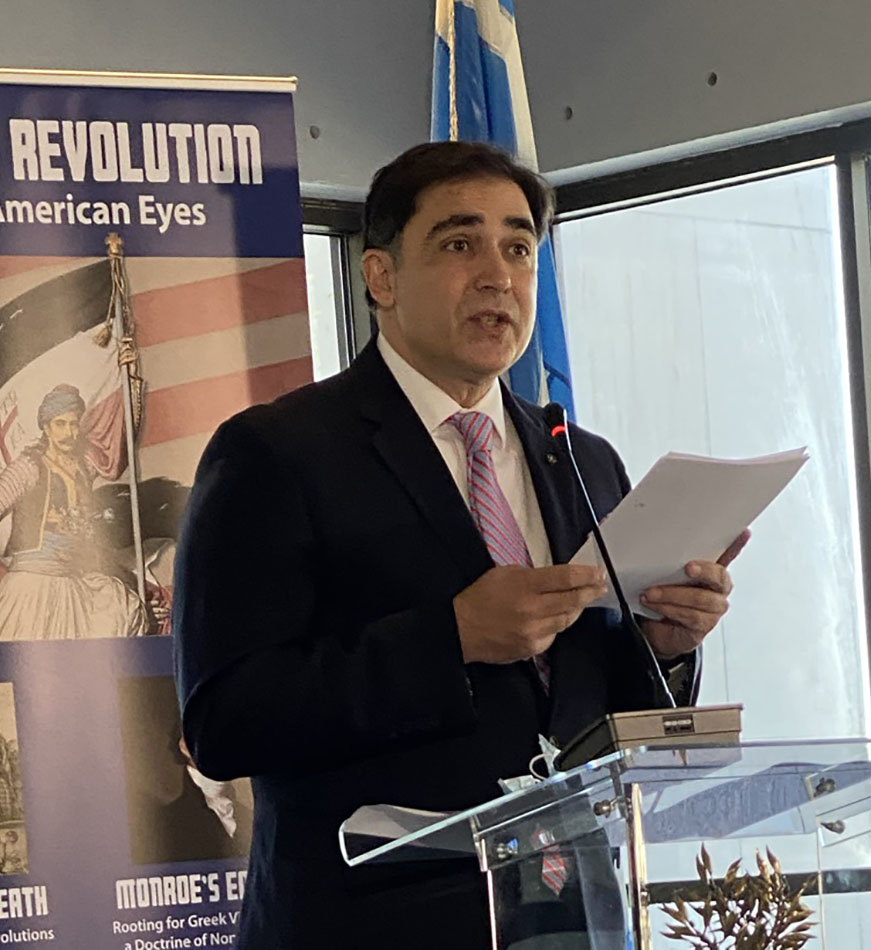 ABOUT THE DIRECTORS
Tom Papademetriou, Ph.D.
Tom Papademetriou is the Constantine and Georgeian Georgiou Endowed Professor of Greek History, and Director of the Dean C. and Zoë S. Interdisciplinary Center for Hellenic Studies of Stockton University. A graduate of both Hellenic College (BA, 1988) and Holy Cross School of Theology (M. Divinity, 1992), Dr. Papademetriou received his Ph.D. in 2001 from Princeton University's Department of Near Eastern Studies in Ottoman History. Conducting research in the Ottoman Archives, the Archives of the Ecumenical Patriarchate in Istanbul, and at the Centre for Asia Minor Studies in Athens, he focuses on the history of non-Muslims under Ottoman rule, especially the relations of the Greek Orthodox Church and State in the early Ottoman centuries which is the subject of his book, Render Unto the Sultan published by Oxford University Press. Dr. Papademetriou has been awarded research fellowships from the Social Science Research Council, American Research Institute in Turkey, and Dumbarton Oaks Byzantine Research Center-Harvard University. Most recently he was the Edwin C. and Elizabeth A. Whitehead Member of the Institute for Advanced Study in Princeton, New Jersey. Dr. Papademetriou also directs the Anatolian Churches Project, an international collaborative project that was funded by the National Endowment for the Humanities.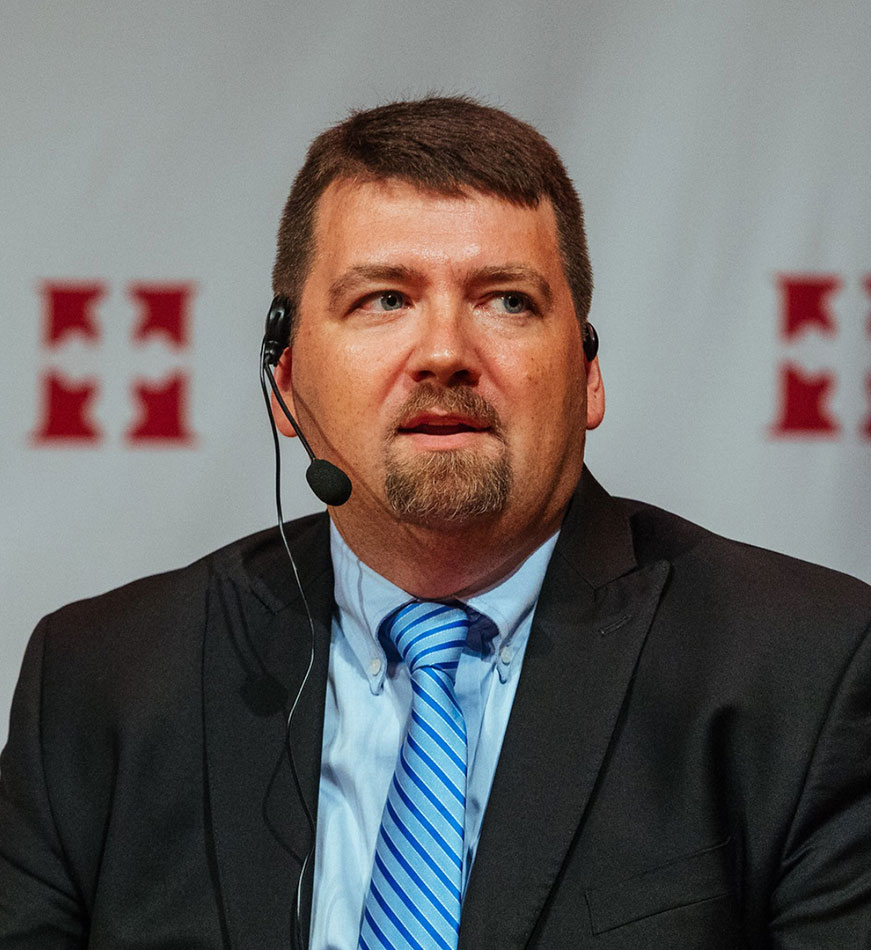 Nicholas Ganson, Ph.D.
Nick Ganson is Assistant Professor of History and Director of the New York Life Insurance Company Center for the Study of Hellenism in Pontus and Asia Minor at Hellenic College (Brookline, MA). Professor Ganson earned his B.A. in Biology from the College of the Holy Cross (1998), M.A. with distinction in History from Boston College (2000), and Ph.D. in History from the University of North Carolina at Chapel Hill (2006). He has received a number of prestigious prizes, including fellowships from the Fulbright-Hays Program and the Social Science Research Council. At Hellenic College, he has taught courses in Greek and Orthodox history, including Byzantine History, the History of Modern Greece, the History of Orthodox Monasticism, and Russian Religious History. Dr. Ganson's research interests include the complex interaction of Orthodox Christianity with the modern state and society.
CONTRIBUTING SCHOLARS
William J. Antholis, Ph.D., Miller Center of Public Affairs, University of Virginia
Jeremy Cox, Ph.D., University of Texas of the Permian Basin
Elizabeth Despres, Independent Scholar
Konstantinos Diogos, Ph.D., Aristotle University of Thessaloniki
Stamatia Dova, Ph.D., Hellenic College
Johanna Hanink, Ph.D., Brown University
Constantine G. Hatzidimitrou, Ph.D., Independent Scholar
Paschalis M. Kitromilides, Ph.D., Academy of Athens & National and Kapodistrian University of Athens (Emeritus)
Kostis Kourelis, Ph.D., Franklin and Marshall College
Margaret Malamud, Ph.D., New Mexico State University
Menios Papadimitriou, M.Div., Fordham University
David Pettegrew, Ph.D., Messiah College
Kameika Murphy, Ph.D., Stockton University
Nicolas Nicolaides, Ph.D. (Cand.) National and Kapodistrian University of Athens
David Roessel, Ph.D., Stockton University
Maureen Connors Santelli, Ph.D., Northern Virginia Community College
James W. Trent, Jr., Ph.D., Brandeis University
CURATORIAL TEAM
Nicholas Dafulas, Hellenic College
Olivia Harris, Stockton University
Sophia LoPresti,Stockton University
Shaun Steup, Stockton University
Christopher Russell, Hellenic College
EXHIBITION DESIGN
Dionne Katinas, DK Design Agency
With special thanks to the librarians and archivists assisting in locating material for this exhibit:
Vicky Gerontopoulou, Chief Librarian, Onassis Library, Athens.
Betty Karatza, Public Relations Manager, E. Averoff Tositsa Foundation, Metsovo.
Marina Lambraki – Plaka, Director, National Gallery – Alexandros Soutzos Museum, Athens.
Georgios Nikolaou, Communications Manager, National Historical Museum, Athens.
Stavros Psiroukis, Photographer, National Gallery – Alexandros Soutzos Museum, Athens.
Konstantinos Thanasakis, Aikaterini Laskaridis Foundation, Piraeus.
Katerina Zographou, Archivist, General State Archives, Athens.