Too much of A Greek
The American Philhellene George Jarvis
☆ American Eyes on the Greek Revolution ☆
Jarvis
"In his habits, truly a Greek"
Edwardsville Spectator (Edwardsville, IL), 18 October 1826.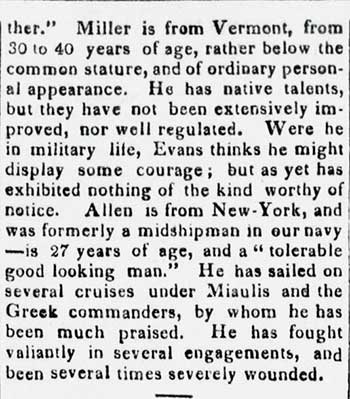 George Jarvis was the most unlikely American hero of the Greek Revolution. He had never set foot in the United States, having been born to an American merchant in Denmark and raised in Europe. As Jarvis wrote in his 1826 letter to Secretary of State Henry Clay, he needed proof of citizenship because "No Nation acknowledged me." But if no country had claimed him, it is evident from his writing and life that George Jarvis had claimed Greece as his country. Jarvis does not seem to have received much education. His English and French suggest little formal training. His German, while better, was still idiosyncratic, and his written Greek was poor. The reason for his decision to join the Greek cause is not clear.
Upon his arrival in Greece, Jarvis connected with the most notable Greek figures of the revolution, and participated in many of the important battles. He received the rank of Lieutenant General and even commanded troops. In 1826, Jarvis and two other Americans he befriended in Greece, Samuel Gridley Howe and Johnathan Miller, made a collective decision to shift their efforts and energize an American relief effort. By 1827, they had all resigned or taken leave from the Greek military to administer the distribution of food and humanitarian aid in Greece. By keeping up constant communication with the Greek Relief Committees in the U.S., Jarvis became instrumental in feeding and clothing thousands of starving refugees. Rarely have individual people pounded their own swords into ploughshares to such a great effect as Jarvis, together with Miller and Howe.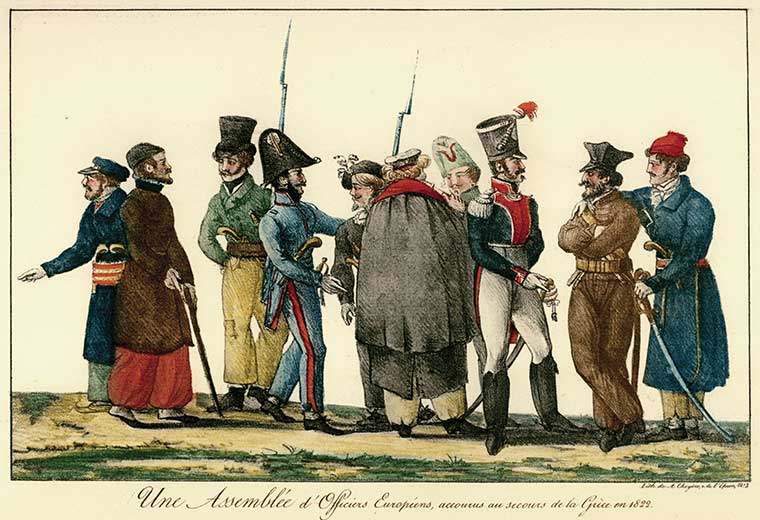 ("A Group of European Officers" by René Puaux is reproduced by kind permission of the Travel Accounts Book Collection ©Onassis Library, Onassis Foundation.)
I have been honoured by an Englishman yesterday with title of Greek, they meant to hurt my feelings by thinking me too much of a Greek. I have no other desire here than to pass for one, and to take all their good qualities.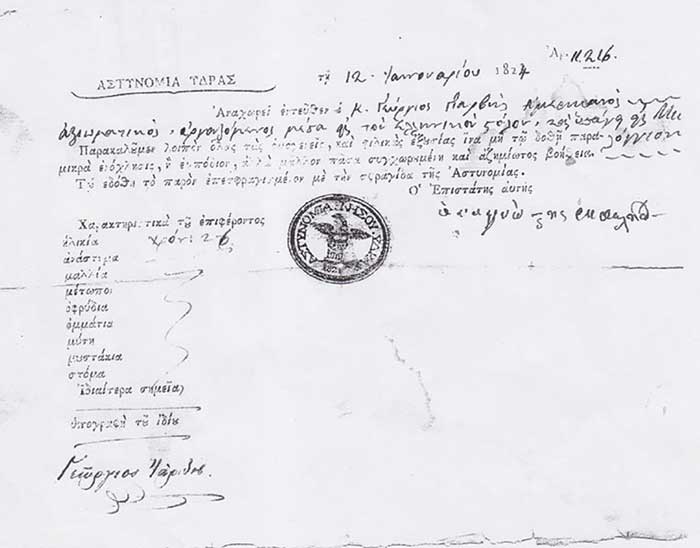 (Courtesy of American Philhellenes Society)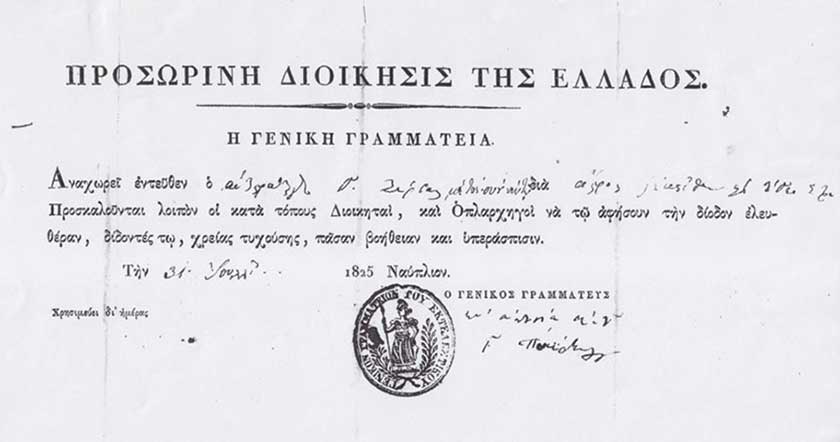 (Courtesy of American Philhellenes Society)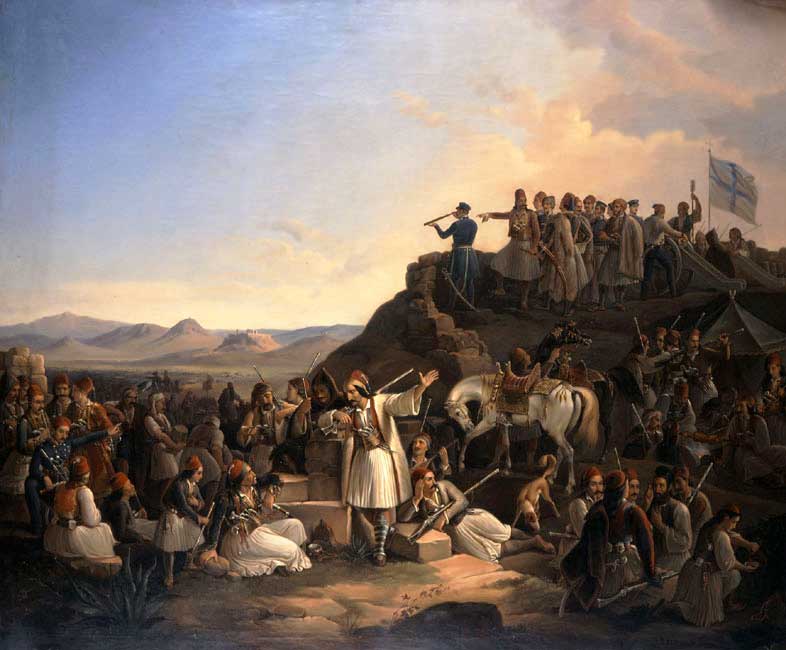 (The camp of Karaiskakis, oil painting by Theodoros Vryzakis, Athens 1855. Courtesy of National Gallery, Athens; Stavros Psiroukis.)
To see these poor Greeks, many without shoes, all without or with the worst of bread, joined, climbing up hills and down dales, to attack the tyrannical aggressor, in defence [sic] of their country—never has an object interested me more, never did I feel more sincerely for my own family, than I did and do for these poor Greeks.
~ Jarvis' Journal, 1822
Remember me! my friends, Who here for freedom's cause remains, In Grecian seas, in Grecian plains, To break the most inglorious chains, And seek humanity.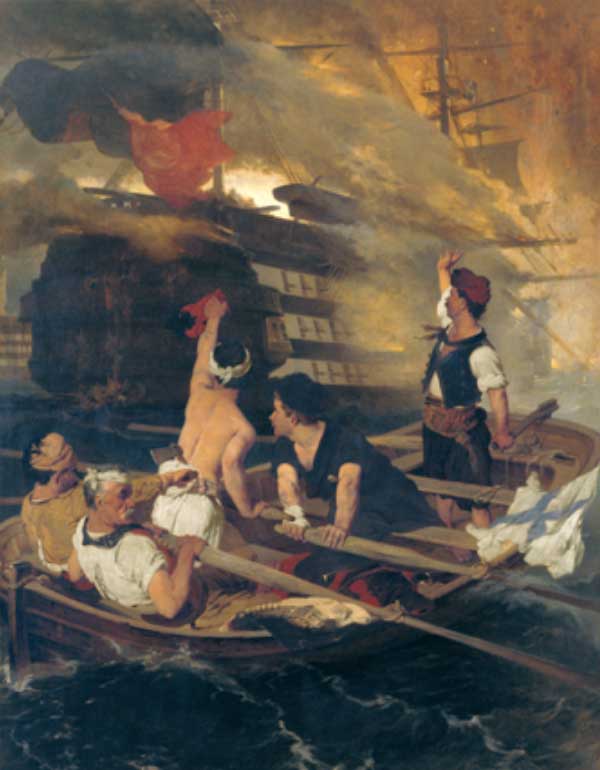 (Courtesy of the Averoff Art Gallery, Metsovo)
George Jarvis served among many notable Greek heroes, and in significant battles
1822
Arrived in Hydra and met Yiorgos Koundouriotes who later became President
Joined the crew of the ship Themistocles
Sailed with the fleet under Admiral Miaoulis
1822
Stopped at Chios to witness results of the massacre earlier that year
Witnessed Konstantinos Kanaris' destruction of the Turkish flagship
Met and joined Byron and Mavrokordatos in Missolonghi
Trained artillery section of Suliots in Byron Brigade
1825
Travelled with Miller to Nauplion
Took part in the defense of Navarino against the troops of Ibrahim
Taken prisoner with Byron's doctor, Julius Millingen. Ibrahim hoped to bring them to his side by offering them freedom and a reward. Millingen accepted. Jarvis chose to return to the Greek army.
1827
Served under Georgios Karaiskakis during the attack on Athens in 1827, in which Karaiskakis was killed
Took leave to devote himself to relief effort with Howe and Miller
Was chief American associate of Post in distribution of clothing and provisions
1828
Showed dedication and bravery in ensuring that the relief reached those most in need
Considered making a trip to the United States to promote the relief effort as Miller and Howe had done, but died before he had the opportunity
Died of tetanus in Argos on August 11th
(Reproduced by kind permission of the Travel Accounts Book Collection ©Onassis Library, Onassis Foundation)