A Meeting of Minds
The Correspondence between Jefferson and Korais
(Courtesy of the Benaki Museum, Athens)
In 1823, the third year of the revolution, Adamantios Korais (1748–1833), a leading figure of the Greek Enlightenment and fervent proponent of liberty for his native Hellas, wrote to Thomas Jefferson (1743–1826) to request advice on state-building. Jefferson, drawing from his own experience on state-building during the first half-century of American independence, responded with advice. Consisting of four letters exchanged over the span of one-and-a-half years (July 1823–January 1825), their correspondence reveals their shared faith in elective government, as well as in the power of education to produce enlightened citizens and, by extension, well-governed states.
An eyewitness and admirer of the French Revolution, Korais considered liberty as the ultimate civic good and tirelessly advocated for the character formation and citizen training that would allow his compatriots to attain and then safeguard it. He reached out to Jefferson out of concern that the Greeks lacked experience in self-government and were, therefore, unprepared to address the crises of early statehood. Jefferson declared his (and his country's) unwavering moral support for Greek independence but made clear that U.S. foreign policy did not allow military involvement in Europe; this posture was shortly thereafter formalized in the Monroe Doctrine. Jefferson's moral support for the Greek cause derived from his admiration for Greece as the first civilized nation, which provided an example of what man should be. At the same time, he considered the political systems of ancient Athens and Sparta no longer practicable in the modern age and unable to guarantee the equal rights and happiness of every individual. As a means of ensuring these rights, Jefferson recommended a representative or republican form of government.
(Public domain via Wikimedia Commons)
No people sympathize more feelingly than ours with the sufferings of your countrymen, none offer more sincere and ardent prayers to heaven for their success: and nothing indeed but the fundamental principle of our government, never to entangle us with the broils of Europe, could restrain our generous youth from taking some part in this holy cause.
~ Thomas Jefferson
(Public domain via US National Archives)
Declaration of Independence
We hold these truths to be self-evident, that all men are created equal, that they are endowed by their Creator with certain unalienable Rights, that among these are Life, Liberty and the pursuit of Happiness.
Preamble to the Declaration of Independence
(Courtesy of the National Historical Museum, Athens)
Classical Revival
The two men had met in Paris approximately thirty–five years earlier, when Jefferson was serving as U.S. minister to France (1785–89), while Korais was pursuing a distinguished career as an intellectual. Korais, convinced that a meaningful classical revival would rapidly counteract the disastrous effects of 400 years of Ottoman occupation on the Hellenic psyche, constantly appealed for public schools with strong curricula in the humanities.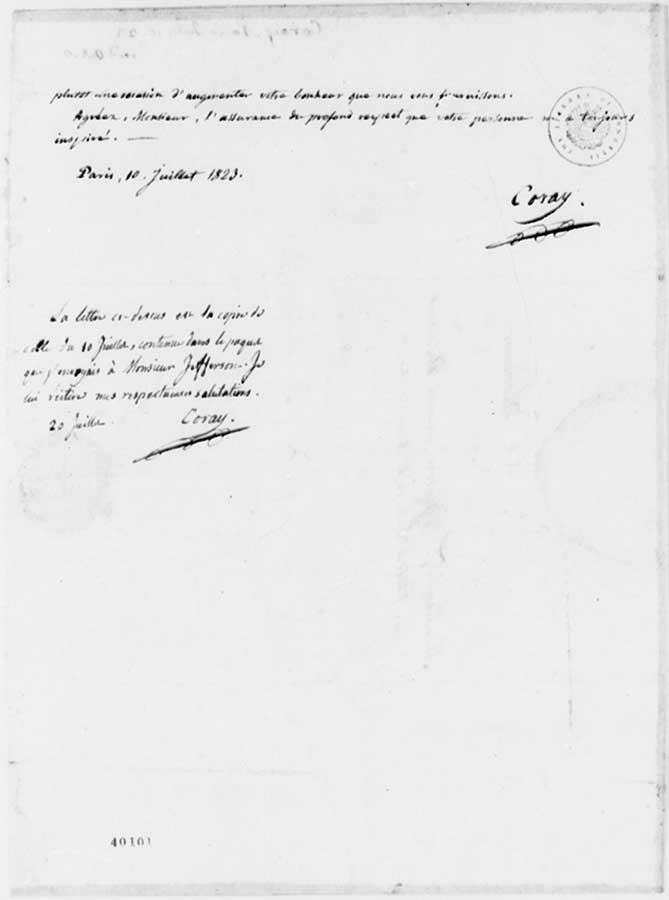 (Library of Congress, Manuscripts Division)
(Library of Congress, Manuscripts Division)
Until [the edition] of Aristotle's Ethics, and the Strategikos of Onesander … for which I pray you to accept my thanks, I had seen only your Lives of Plutarch. These I had read, and profited much by your valuable scholia, and [with] the aid of a few words from a modern Greek Dictionary, would, I believe, have enabled me to read your patriotic addresses to your countrymen.
~ Thomas Jefferson
(Public domain via the New York Public Library)