"To Live and Die for Liberty"
A Direct Appeal to America
☆ American Eyes on the Greek Revolution ☆
Proclamation of the Messenian Senate
Citizens of the U. States of America!
In taking the Resolution to live and die for liberty, we feel ourselves drawn toward you by a natural sympathy. It is among you, that liberty has found her abode, and she is worshipped by you as by our fathers. In invoking her name we invoke yours; feeling that in imitating you we imitate our own ancestors, and that we shall show ourselves worthy of them in proportion as we resemble you.
Though separated from you, Americans, by mighty oceans, we are drawn near to you by your virtues. We feel you to be nearer to us than the nations on our frontiers, and we regard you as friends, fellow-citizens, and brethren, because you are just, benevolent and generous. Just, for you are free: Benevolent and generous, for your laws are the laws of the gospel.
On March 23, the Greek Maniote chieftan, Petrobey Mavromichalis (1765–1848), with 2500 irregular klephtic (brigand) fighters, liberated Kalamata as the Ottoman garrison surrendered without fighting. Two days later, on March 25, 1821, the large gathering of chieftains from the region, known as the Messinian Senate of Kalamata, convened to issue the revolutionary proclamation for "Liberty" from the "tyranny of the Turks."
The proclamation for "Liberty" was sent in the name of the Senate and Commander-in-Chief Petrobey Mavromichalis. In his letter of appeal of May 25, 1821, Petrobey addressed the citizens of the United States of America. By appealing to the Americans directly as "Citizens of the United States," Petrobey identified the shared value of liberty. He asked for aid to purge Greece from the "barbarians" who "polluted the soil" for four hundred years. Thus, the Greek revolutionaries understood themselves as part of a universal struggle for freedom.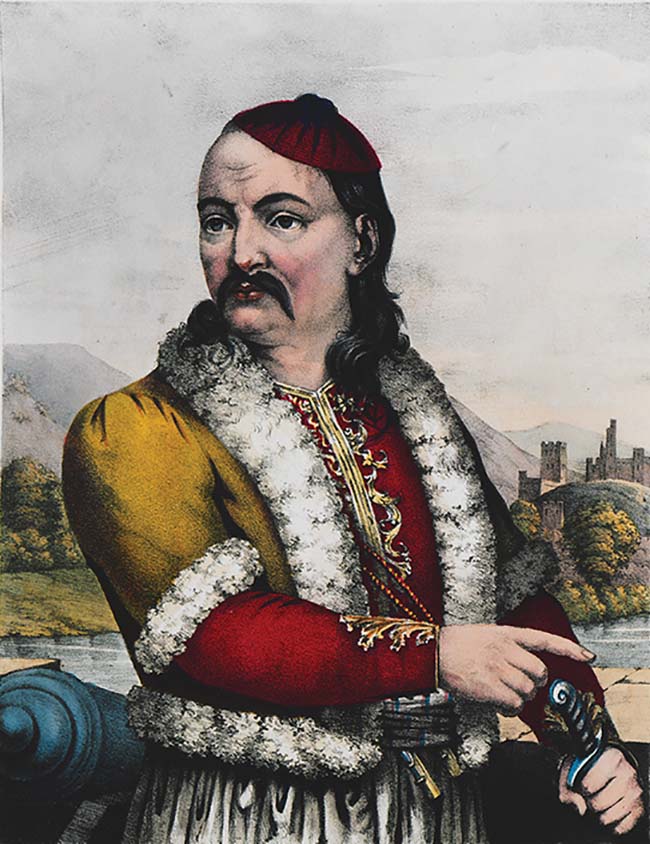 (Courtesy of Aikaterini Laskaridis Foundation, Piraeus)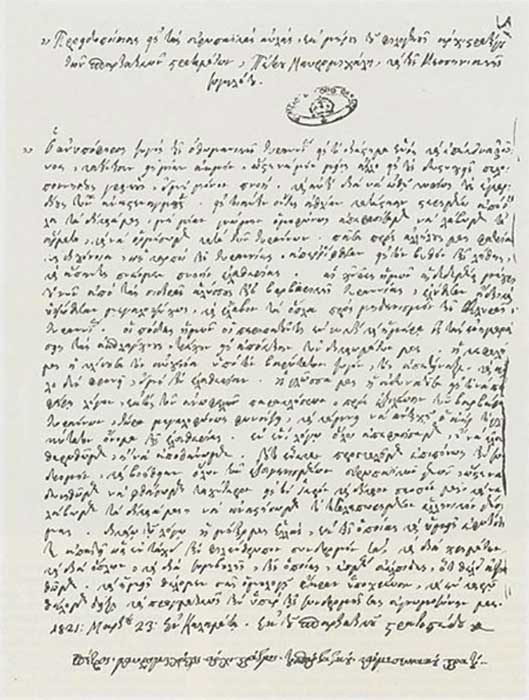 (The National Archives, Public Record Office, Kew, Richmond, London)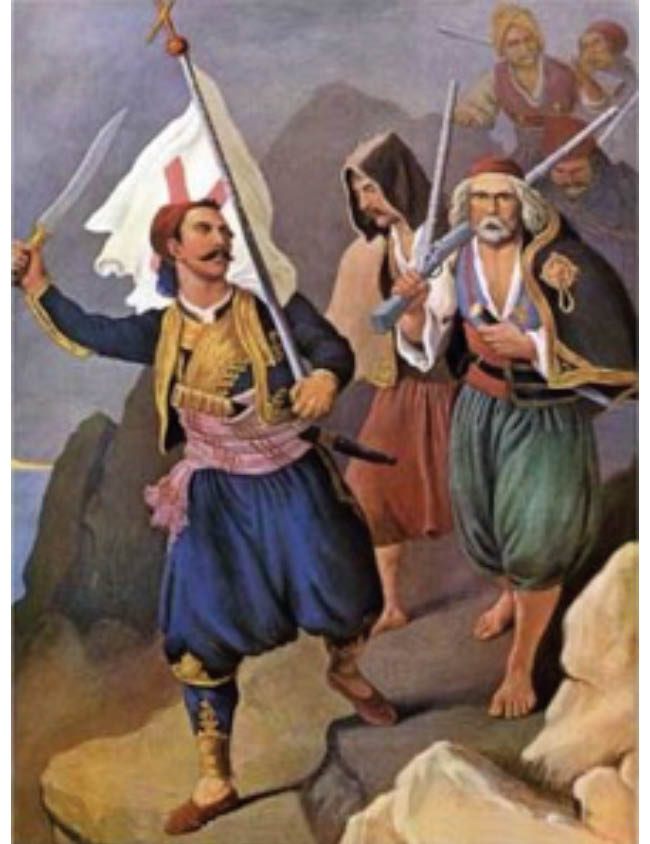 (Courtesy of the National Historical Museum, Athens)
"Your freedom does not rest on the slavery of other nations, … you wish that all men should partake these blessings, and enjoy the rights which nature intended for all…It is you, who first asserted these rights, and you who have first again recognized them, in restoring to the oppressed Africans the character of Men."
(Public Domain via Wikimedia Commons)
(Courtesy of the Library of the Hellenic Parliament, Athens)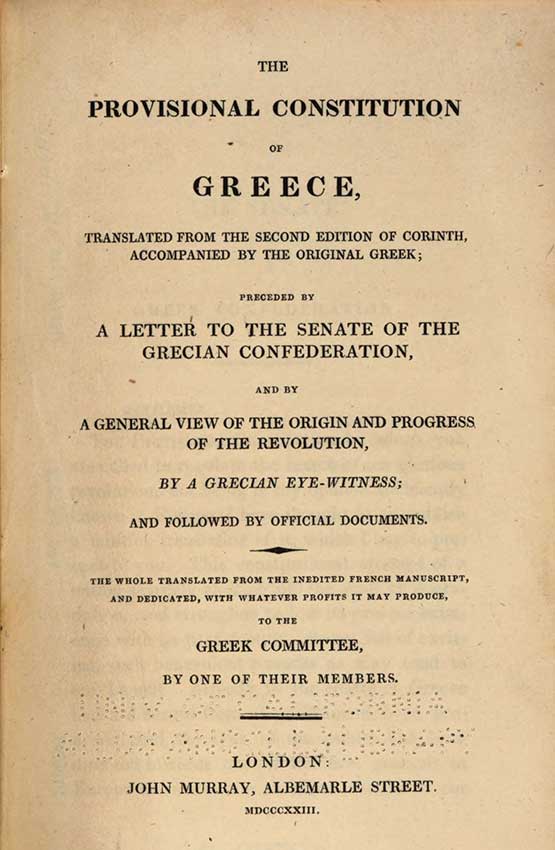 (Public domain via Hathi Trust)
1770
Revolt in Peloponnese and Crete known as the Orlov Revolt
1797
Rigas Velestinlis Feraios drafts constitution for the "Hellenic Republic"
1800-1807
Ionian Republic/ Septinsular Republic; an Ottoman vassal state – British occupation (1807) and protectorate until 1864
1814
Establishment of the revolutionary society Filike Etairia Society of Friends
1819
Ali Pasha revolts against Ottoman Sultan offering diversion
1821
On 5 March Alexandros Ypsilantis enters Danubian Principalities and proclaims independence, fails and is captured
1822
Greek National Assembly at Epidaurus Proclaims Hellenic Republic and votes on first Greek constitution
1822-1824
Campaign of Ottoman Commander Dramali
1825
Ibrahim Pasha lands in Peloponnesos
1827
Battle of Navarino– Ottoman Navy of Ibrahim Pasha defeated by allied fleet from Britain, France, and Russia
1830
London Protocol declares Greece an independent monarchy, guaranteed by Britain, France, and Russia
(Aikaterini Laskaridis Foundation)